Analysis of Business Sustainability Influence in the Kediri Regency
Keywords:
AIS, Financial Literacy, MSMEs, Price, Promotion
Abstract
MSMEs, or Micro, Small, and Medium Enterprises, are businesses that operate on a micro to medium scale. The presence of MSMEs plays a significant role in improving the welfare of communities in their immediate environment. Additionally, MSMEs also contribute to the economic growth of Indonesia as a nation. Considering the importance of their role, it is hoped that every MSME maintains consistent business sustainability. However, in reality, many MSMEs only survive for a short period due to various issues that are not promptly addressed, leading to eventual closure. Moreover, not all MSMEs possess the necessary capabilities to overcome these challenges. Based on these issues, a study was conducted to examine variables that can impact business continuity. The research aims to determine the influence of Selling Price, Promotion, Financial Literacy, and Accounting Information Systems on Business Sustainability. In processing the data, the researchers employed Multiple Linear Regression analysis, Partial t-test, and Simultaneous F-test. The results of the study indicate that variables such as selling price, promotion, financial literacy, and accounting information systems have an influence on business sustainability, both individually and collectively.
Downloads
Download data is not yet available.
References
Adiwimarta, S. S., & Sunaryo, A. (2016). Kamus Besar Bahasa Indonesia Edisi ke-5 (5th ed.). Balai Pustaka.
Dwiastanti, A., & Mustapa, G. (2020). Pengaruh Karakteristik Wirausaha, Lingkungan Eksternal dan Strategi Bertahan Umkm dalam Menjaga Keberlangsungan Usaha di Musim Pandemi Covid 19. Business and Accounting Education Journal, 1(3), 228–240. https://doi.org/10.15294/baej.v1i3.42740
Fadilah, A., Syahidah, A. nur'azmi, Risqiana, A., Nurmaulida, A. sofa, Masfupah, D. D., & Arumsari, C. (2021). Pengembangan Usaha Mikro, Kecil, Dan Menengah Melalui Fasilitasi Pihak Eksternal Dan Potensi Internal. BERNAS: Jurnal Pengabdian Kepada Masyarakat, 2(4), 892–896. https://doi.org/10.31949/jb.v2i4.1525
Ghozali, I. (2018). Aplikasi Analisis Multivariate dengan Program IBM SPSS 25. Badan Penerbit Universitas Diponegoro.
Idawati, I. A. A., & Pratama, I. G. S. (2020). Pengaruh Literasi Keuangan Terhadap Kinerja dan Keberlangsungan UMKM di Kota Denpasar. Warmadewa Management and Business Journal (WMBJ), 2(1), 1–9. https://doi.org/10.22225/wmbj.2.1.1644.1-9
Kotler, P. (2022). Marketing 5.0 (H. Kartajaya & I. Setiawan (eds.); Edisi Regu). Gramedia Pustaka Utama.
Lusardi, A. (2012). Numeracy, Financial Literacy, and Financial Decision-Making. Paper Presented at the Journal Scholar Commons.
Mahdiyan, A. (2022). Perekonomian dunia diprediksi akan dihantam resesi tahun 2023, bagaimana dengan pembangunan infrastruktur? https://kpbu.kemenkeu.go.id/read/1173-1508/umum/kajian-opini-publik/perekonomian-dunia-diprediksi-akan-dihantam-resesi-tahun-2023-bagaimana-dengan-pembangunan-infrastruktur
Marwati, F. ., Damyanti, R., & Widayat, R. (2017). Pengaruh Pengetahuan Keuangan Dan Motivasi Terhadap Keberlangsungan Usaha. Suhuf, 29(2), 197–215. http://journals.ums.ac.id/index.php/suhuf/article/view/5645
Nurfadillah, M. (2020). Meningkatkan Produktivitas Pelaku UMKM melalui Pelatihan Perencanaan Bisnis. Jurnal Abdimas Mahakam, 4, 43.
Otinur, F., Pangemanan, S. S., & Warongan, J. (2017). Analisis Sistem Informasi Akuntansi Dan Sistem Pengendalian Internal Persediaan Barang Pada Toko Campladean Manado. Going Concern : Jurnal Riset Akuntansi, 12(01), 169–179. https://doi.org/10.32400/gc.12.01.17202.2017
Peraturan Pemerintahan Republik Indonesia. (2008). Undang Undang Nomor 20 Tahun 2008 .
Safitri, A. (2018). PENGARUH PENGGUNAAN INFORMASI AKUNTANSI TERHADAP KEBERHASILAN USAHAKECIL MENENGAH (Studi Pada Sentra Dodol di Kec. Tanjung Pura). 69.
Sastrawan, R., Hermina, U. N., Qadri, U., & Pratiwi, N. (2019). PENGARUH HARGA JUAL, MUTU PRODUK DAN PROMOSI TERHADAP KELANGSUNGAN USAHA DI ERA PANDEMI (Studi Pada UMKM Kecamatan Pontianak Barat). 14(1), 5–10.
Sugiyono. (2017). Metodelogi Penelitian Kuantitatif dan Kualitatif Dan R&D. ALFABETA.
Widayanti, R., Damayanti, R., & Marwanti, F. (2017). Pengaruh Financial Literacy Terhadap Keberlangsungan Usaha (Business Sustainability) Pada Umkm Desa Jatisari. Jurnal Ilmiah Manajemen & Bisnis, 18(2), 153. https://doi.org/10.30596/jimb.v18i2.1399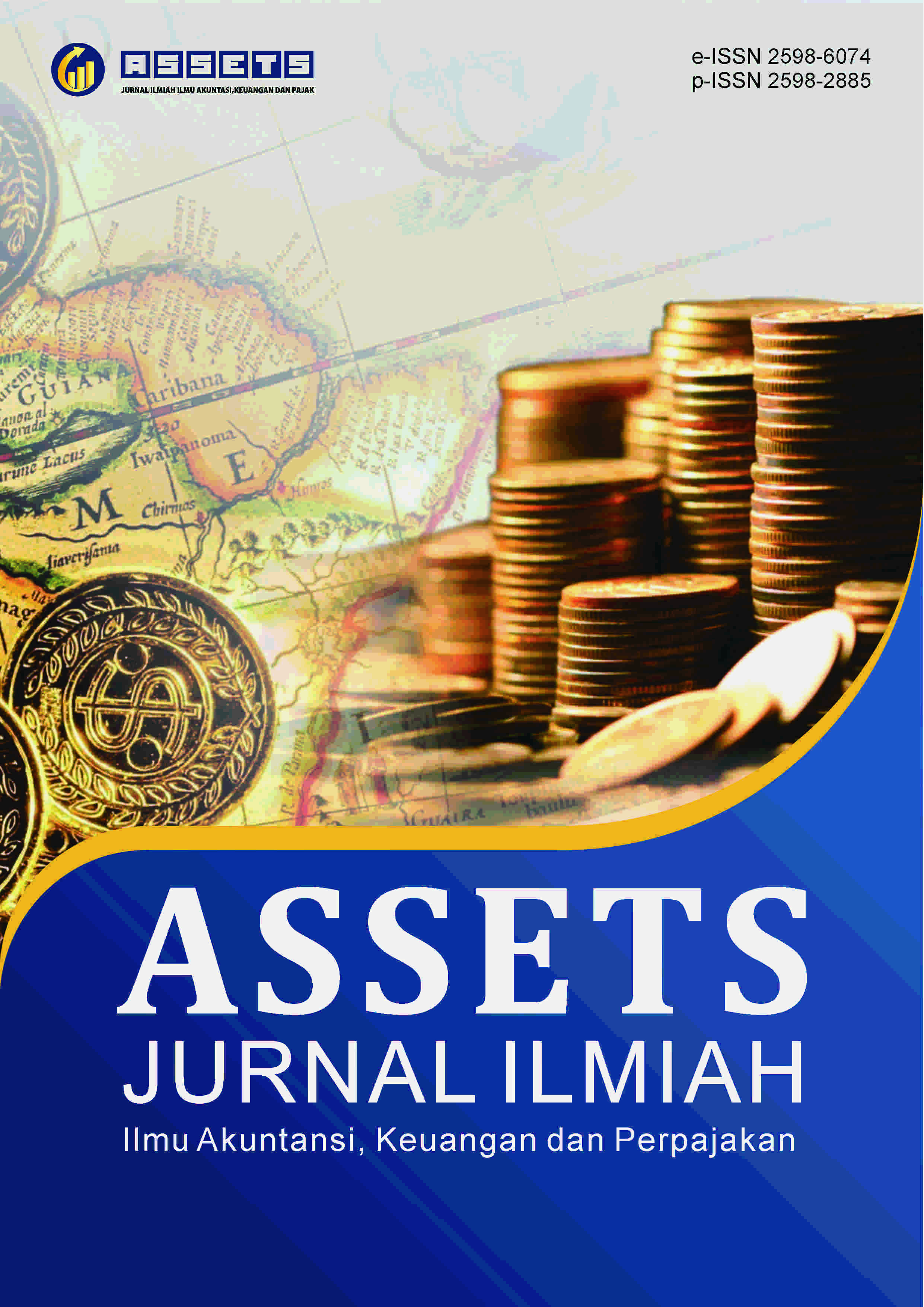 Downloads
How to Cite
Jaya, Y. P., Winarko, S. P., & Solikah, M. (2023). Analysis of Business Sustainability Influence in the Kediri Regency. Assets : Jurnal Ilmiah Ilmu Akuntansi, Keuangan Dan Pajak, 7(2), 56–71. https://doi.org/10.30741/assets.v7i2.1056
License
Copyright (c) 2023 Yosua Pamungkas Jaya Yousa Pamungkas Jaya, Sigit Puji Winarko, Mar'atus Solikah
This work is licensed under a Creative Commons Attribution-NonCommercial 4.0 International License.