IT Capability, Audit Risk and the Role of Internal Control
Keywords:
Audit Risk, Fee Internal Control, IT Capability, IT Invesment
Abstract
Technology investment is important for a company, especially in the era of the industrial revolution 4.0 and 5.0. which both emphasize the importance of utilizing information technology and its users to increase competitive advantage. Optimum utilization of information technology will have an impact on reducing audit risk through the effectiveness of the internal control function. This study aims to analyze whether information technology capabilities affect audit risk and internal control quality in banking companies listed on the IDX during the 2019-2022 observation. The data sources used in this analysis use secondary data sourced from financial reports and annual reports of banking companies. Samples were selected based on predetermined criteria. The data analysis technique is panel data using Eviews 9. The test results show that 1) Information technology investment has a significant effect on audit risk, 2) Internal control moderates the effect of information technology investment on audit risk. 3) ROA as a control variable has no influence on audit risk.
Downloads
Download data is not yet available.
References
AICPA. 2006. "AU-C 312 Audit Risk and Materiality in Conducting an Audit." : 95–111.
Alfarol, A. K., & Bahwiyanti, J. (2023). PENGARUH KEPUASAN KERJA DAN STRESS KERJA TERHADAP TURNOVER INTENTION PADA PT. HASNUR RIUNG SINERGI KABUPATEN TAPIN. Al-KALAM: JURNAL KOMUNIKASI, BISNIS DAN MANAJEMEN, 10(1), 75–89.
Anizar, S., Anastasia, M., Rahman, A., & Yanti, J. B. (2023). Pengaruh Gender Terhadap Kualitas Laporan Keuangan Pada Perusahaan Manufaktur Terdaftar Di Bursa Efek Indonesia. Owner: Riset Dan Jurnal Akuntansi, 7(1), 156–163.
Aral, Sinan, and Peter Weill. 2007. "IT Assets, Organizational Capabilities, and Firm Performance: How Resource Allocations and Organizational Differences Explain Performance Variation." Organization Science 18(5): 763–80.
Baron, Reuben M., and David A. Kenny. 1986. "The Moderator-Mediator Variable Distinction in Social Psychological Research. Conceptual, Strategic, and Statistical Considerations." Journal of Personality and Social Psychology 51(6): 1173–82.
Bharadwaj. 2011. "A Resource-Based Perspective On Information Technology Capability And Firm Performance : An Empirical Investigation." Management Information Systems 24(1): 169–96.
Cao, Jian et al. 2017. "Can Information Technology Investment Improve Internal Control Effectiveness ? Evidence from China."
Cassell, Cory A., Michael S. Drake, and Stephanie J. Rasmussen. 2011. "Short Interest as a Signal of Audit Risk*: Short Interest as a Signal of Audit Risk." Contemporary Accounting Research 28(4): 1278–97.
Chalmers, Keryn, David Hay, and Hichem Khlif. 2019. "Internal Control in Accounting Research: A Review." Journal of Accounting Literature 42: 80–103.
Chen, H., Dong, W., Han, H., & Zhou, N. (2017). A comprehensive and quantitative internal control index: construction, validation, and impact. Review of Quantitative Finance and Accounting, 49(2), 337–377.
Chen, Yunhao, Antoinette L. Smith, Jian Cao, and Weidong Xia. 2014. "Information Technology Capability, Internal Control Effectiveness, and Audit Fees and Delays." Journal of Information Systems 28(2): 149–80.
Deng, Chun mei, Zhi Xiao, and Ling Zhou. 2017. "Information Systems and Internal Control: Evidence from China." Electronic Commerce Research 17(3): 361–77.
Fasha, Y., Karsudjono, A. J., & Fitr, S. (2023). EFEKTIVITAS PENDIDIKAN DAN PELATIHAN DALAM MENINGKATKAN KINERJA APARATUR SIPIL NEGARA PADA BADAN PENGEMBANGAN SUMBER DAYA MANUSIA DAERAH PROVINSI KALIMANTAN SELATAN. Al-KALAM: JURNAL KOMUNIKASI, BISNIS DAN MANAJEMEN, 10(1), 90–103.
Ge, W., Li, Z., Liu, Q., & Vay, S. M. (2020). When Does Internal Control Over Financial Reporting Curb Resource Extraction? Contemporary Accounting Rese.
Han, Shipeng, Zabihollah Rezaee, Ling Xue, and Joseph H. Zhang. 2016. "The Association between Information Technology Investments and Audit Risk." Journal of Information Systems 30(1): 93–116.
Helmina, M. R. A., Oktaviani, A., Susilowati, P. I. M., & Sutomo, I. (2023). DEKONTRUKSI ASET TETAP PEMERINTAHAN (PADA AKUNTAN DI KOTA BANJARMASIN). JWM (JURNAL WAWASAN MANAJEMEN), 11(1), 42–59.
Hoffman, Benjamin W., R. Drew Sellers, and Justyna Skomra. 2018. "The Impact of Client Information Technology Capability on Audit Pricing." International Journal of Accounting Information Systems 29(February): 59–75.
Kamarullah, H., & Karsudjono, A. J. (2023). PERANAN MOTIVASI DALAM MENINGKATKAN KINERJA PENDIDIK DAN TENAGA KEPENDIDIKAN PADA SDN SUNGAI PARING 2 MARTAPURA. Al-KALAM: JURNAL KOMUNIKASI, BISNIS DAN MANAJEMEN, 10(1), 1–12.
Karadjova, Vera et al. 2016. "The Concept of Audit Risk." Article in International Journal of Sciences: Basic and Applied Research 27(1): 22–31.
Lorraine Lee, James Whitworth, Susan Hermanson. 2015. "The Effects Of Information Technology Innovativeness On Audit Efficiencies." Journal of Labor Research 19(1).
Masli, Adi, Vernon J. Richardson, Juan Manuel Sanchez, and Rodney E. Smith. 2011. "The Business Value of IT: A Synthesis and Framework of Archival Research." Journal of Information Systems 25(2): 81–116.
Miles E.A. Everson, Stephen E. Soske ,Frank J. Martens, Cara M. Beston, Charles E. Harris. 2013. "Internal Control — Integrated Framework Executive Summary." Coso (May): 1–20.
Munandar, A., Fatimah, S., Cakranegara, P. A., Kunda, A., & Putri, P. A. A. N. (2023). EXAMINING THE IMPACT MANAGERIAL OWNERSHIP AND FINANCIAL PERFORMANCE ON DIVIDEND POLICY. Jurnal Ekonomi, 12(01), 66–70.
Rahayu, L., & Huda, I. U. (2023). E-COMMERCE SEBAGAI MEDIA UNTUK MENINGKATKAN PENDAPATAN USAHA UMKM DI MASA PANDEMIK COVID 19 DI KALIMANTAN SELATAN. Al-KALAM: JURNAL KOMUNIKASI, BISNIS DAN MANAJEMEN, 10(1), 151–175.
Rahmayanti, N. P. (2023). Pengaruh Marketplace dan Pembayaran Digital Terhadap Tingkat Penjualan UMKM Di Kota Banjarmasin. Al-KALAM: JURNAL KOMUNIKASI, BISNIS DAN MANAJEMEN, 10(1), 28–36.
Rahmayanti, N. P., & Karsudjono, A. J. (2023). ANALISIS PERBEDAAN PENDAPATAN GOJEK SEBELUM DAN SESUDAH PANDEMI COVID-19. Media Mahardhika, 21(2), 260–265.
Sari, Berina Indah et al. 2013. "Dampak Investasi Aset Teknologi Informasi Terhadap Inovasi Dengan Lingkungan Industri Sebagai Variabel Pemoderasi."
Yoon, Chui Young. 2011. "Measuring Enterprise IT Capability: A Total IT Capability Perspective." Knowledge-Based Systems 24(1): 113–18.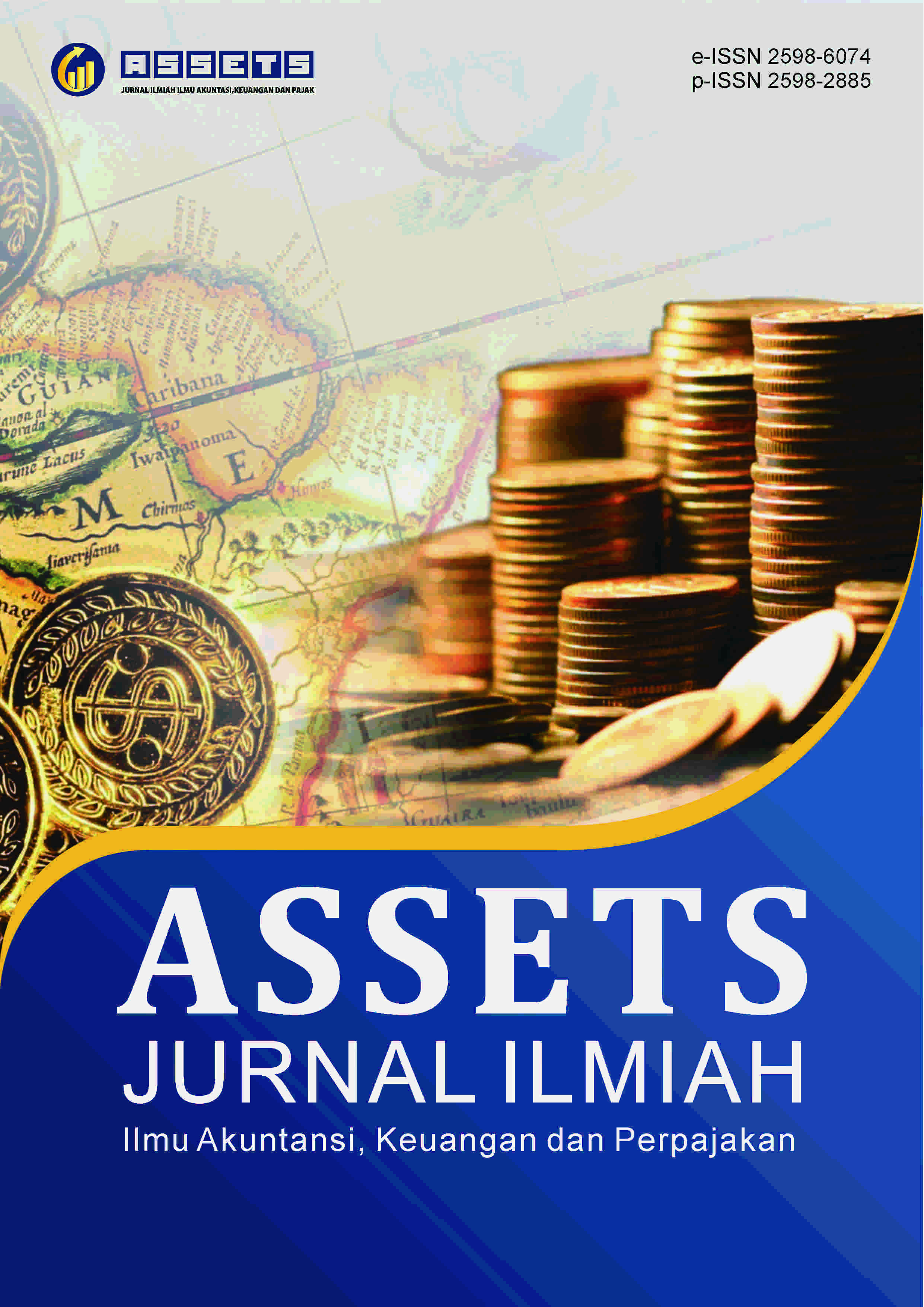 Downloads
How to Cite
Wilamsari, F., Rahmadhany, U., & Musriati, T. (2023). IT Capability, Audit Risk and the Role of Internal Control . Assets : Jurnal Ilmiah Ilmu Akuntansi, Keuangan Dan Pajak, 7(2), 17–21. https://doi.org/10.30741/assets.v7i2.1072
License
Copyright (c) 2023 Feni Wilamsari, Umi Rahmadhany, Titik Musriati
This work is licensed under a Creative Commons Attribution-NonCommercial 4.0 International License.