Analysis of the Health of Sharia Cooperatives as an Effort for Creative Economy Development in Bojonegoro Regency, Indonesia
Keywords:
Creative Economic, Economic Recovery, Sharia Cooperation
Abstract
Sharia-based cooperatives are financial institutions that use the principles of an Islamic economic system in running their business. As one of the economic actors, sharia cooperatives take part in the development of the creative economy in Indonesia. Improved management and good service can be done by applying the cooperative health calculation as a form of operational performance evaluation. This is also part of the cooperative development strategy. The purpose of this study was to determine the level of health of AKAS cooperatives. The calculation and analysis method is based on Regulation of the Deputy for Supervision of the Ministry of Cooperatives and Small and Medium Enterprises of the Republic of Indonesia Number 07/Per/Dep.6/IV/2016. The results of the study concluded that the health of the AKAS cooperative was in a healthy condition from all aspects except the aspects of independence and growth.
Downloads
Download data is not yet available.
References
Aditriyanto, R. (2021). Koperasi Sebagai Pahlawan Ekonomi Di Tengah Pandemi. Dinas Koperasi Usaha Kecil & Menengah Provinsi Jawa Tengah. https://dinkop-umkm.jatengprov.go.id/berita/view/686
Ahyani, H., Putra, H. M., Slamet, M., & Mutmainah, N. (2022). Standardization of Companies and The Islamic Business Environment in Indonesia. Jurnal Ilmiah Ekonomi Islam, 8(1). https://doi.org/10.29040/jiei.v8i1.3795
As-Salafiyah, A., & Kartikawati, D. R. (2022). Islamic Microfinance as Social Finance in Indonesia: A Review. Islamic Social Finance, 2(1), 1-24.
Devi, A., Sakti, M. R. P., & Ali, M. M. (2019). Developing Islamic Financial Inclusion Index for Islamic Banks in Indonesia: A Cross-Province Analysis. Journal of Islamic Monetary Economics and Finance, 5(4), 691-712. https://doi.org/10.21098/jimf.v5i4.1098
Indrianasari, N. T., Ermawati, E., Sulityan, R. B., Ifa, K., & Setyobakti, M. H. (2020). The Based Bank Rating Influence toward BPR Syariah Profit Growth in East Java. Humanities & Social Sciences Reviews, 8(1), 130-136. https://doi.org/10.18510/hssr.2020.8119
Peraturan Deputi Bidang Pengawasa Kementrian Koperasi dan Usaha Kecil dan Menengah Republik Indonesia No 07/Per/Dep.6/IV/2016, (2016).
Maulana, I. (2022). The Role of Islamic Financial Institutions in Empowerment Sme's in Indonesia. I-BEST: Islamic Banking & Economic Law Studies, 1(2), 75-86. https://doi.org/10.36769/ibest.v1i2.249
Muttaqien, F., & Sulistyan, R. B. (2022). Product Branding Training Model for MSMEs in Probolinggo Regency. Innovation Business Management and Accounting Journal, 1(1), 26-31.
Nuryanto, R., Tho'in, M., & Wardani, H. K. (2014). Rasio Likuiditas, Rasio Solvabilitas, Rasio Rentabilitas Koperasi Jasa Keuangan Syariah Di Jawa Tengah. Jurnal Akuntansi Dan Pajak, 15(1), 60-67. https://doi.org/10.29040/jap.v15i01.144
Pitoyo, A. J., Aditya, B., & Amri, I. (2020). The impacts of COVID-19 pandemic to informal economic sector in Indonesia: Theoretical and empirical comparison. E3S Web of Conferences, 200, 03014. https://doi.org/10.1051/e3sconf/202020003014
Rasyid, A. (2018). Perkembangan Lembaga Perbankan dan Keuangan Syariah di Indonesia. https://business-law.binus.ac.id/2018/07/03/perkembangan-lembaga-perbankan-dan-keuangan-syariah-di-indonesia
Riskia, M. (2022). Implementation Of Mudharabah Financing On Baitul Maal According Majlis Ulama Indonesia. Nusantara Economy, 1(1), 1-13.
Selamet, S., & Suhartono, S. (2022). Analysis of Saving and Loan Cooperative Business Development Strategy and Sharia Financing on Interest in Becoming a Member. El-Qish: Journal of Islamic Economics, 2(2), 68-84. https://doi.org/10.33830/elqish.v2i2.3545.2022
Sofia, H. (2020). Jatuh Bangun Koperasi dan UMKM di Tengah Pandemi. Antara Kantor Berita Indonesia. https://www.antaranews.com/berita/1918720/jatuh-bangun-koperasi-dan-umkm-di-tengah-pandemi%5C
Sulistyan, R. B., Carito, D. W., Cahyaningati, R., Taufik, M., Kasno, K., & Samsuranto, S. (2022). Identification of Human Resources in the Application of SME Technology. Wiga : Jurnal Penelitian Ilmu Ekonomi, 22(1), 70-76. https://doi.org/10.30741/wiga.v12i1.799
Suliswanto, M. S. W., Sulistyono, S. W., Arifin, Z., & Abdullah, M. F. (2019). Reflection of Indonesian Economic Development Model Approach Through the Economic and Social Dynamics Ibnu Khaldun. The 2nd International Conference on Islamic Economics, Business, and Philanthropy (ICIEBP) Theme: "Sustainability and Socio Economic Growth", 1128-1151. https://doi.org/10.18502/kss.v3i13.4273
Tanjung, H., & Windiarto, A. (2021). Role of Cash Waqf Linked Sukuk In Economic Development and International Trade. Signifikan: Jurnal Ilmu Ekonomi, 10(2), 275-290. https://doi.org/10.15408/sjie.v10i2.20493
Witro, D. (2020). Urgency Building Islamic Economic System In Indonesia Al-Quran Perspective. Jurnal Ekonomi Islam, 11(1), 64-72.
Yin, R. K. (2018). Case Study Research and Applications: Design and Methods (6 ed.). SAGE Publishing.
Yusuf, B. (2016). Analisis Tingkat Kesehatan Koperasi Syariah. Esensi: Jurnal Bisnis dan Manajemen, 6(1), 101-112. https://doi.org/10.15408/ess.v6i1.3124
Zahriya, A. F., & Isgiyarta, J. (2019). Analisis Kinerja Keuangan Syariah Dalam Penilaian Kesehatan Koperasi Simpan Pinjam Dan Pembiayaan Syariah Jawa Tengah (Studi Kasus pada KSPPS Tingkat Jawa Tengah Tahun 2016). Diponegoro Journal of Accounting, 8(1), 1-15.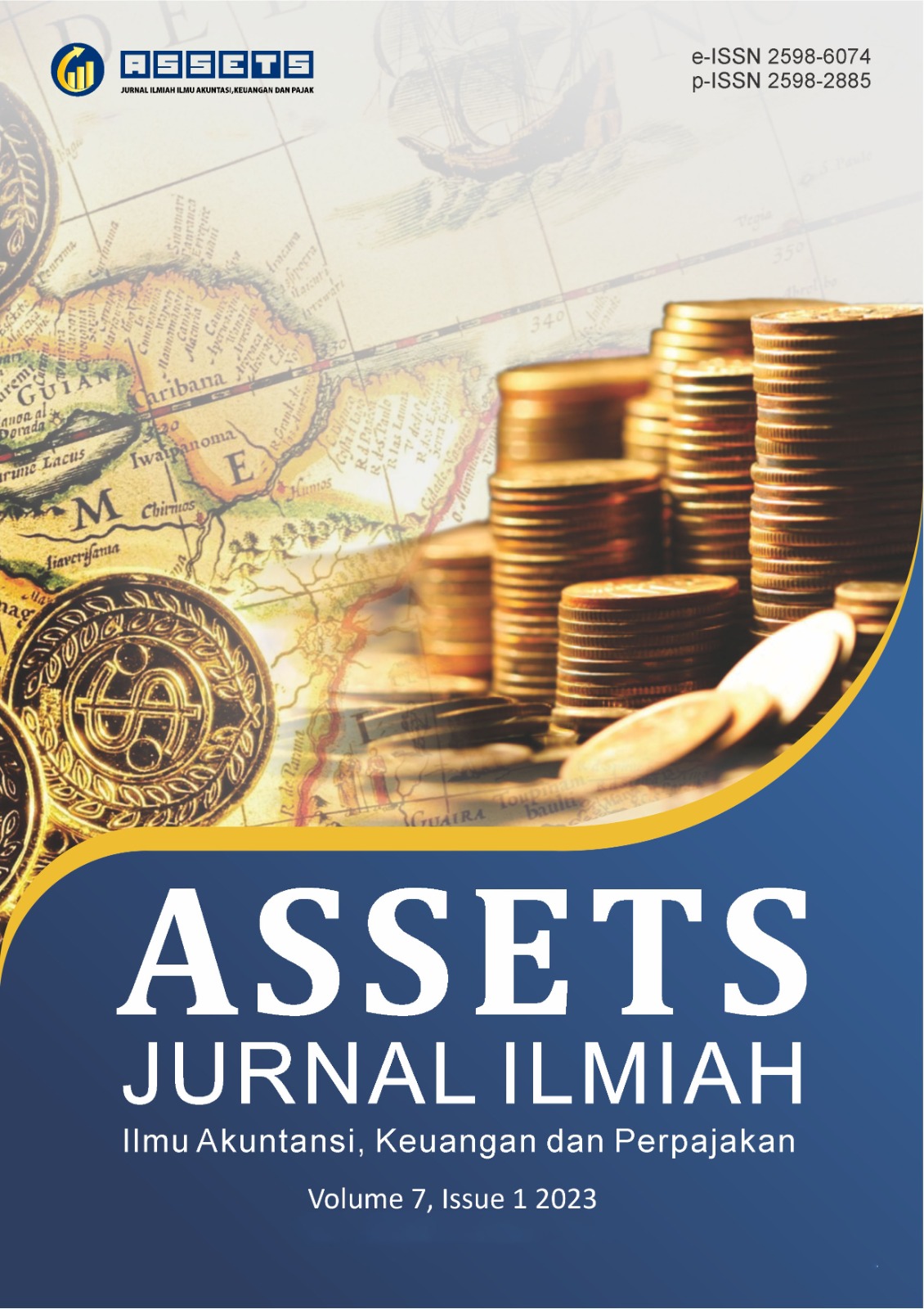 Downloads
How to Cite
Mazidah, N., & Hidayatin, D. A. (2023). Analysis of the Health of Sharia Cooperatives as an Effort for Creative Economy Development in Bojonegoro Regency, Indonesia. Assets : Jurnal Ilmiah Ilmu Akuntansi, Keuangan Dan Pajak, 7(1), 45–51. https://doi.org/10.30741/assets.v7i1.954
License
Copyright (c) 2023 Nurul Mazidah, Dina Alafi Hidayatin
This work is licensed under a Creative Commons Attribution-NonCommercial 4.0 International License.