The Importance of Plant Layout to Support the Smooth Process of Building Shelters After the Semeru Eruption
Keywords:
Plant Layout, Shelter, Semeru Eruption, Sumbermujur-Candipuro Village
Abstract
The purpose of this study was to determine the importance of the right plant layout to support smooth development and to find out the obstacles in the process of building Huntara after the Semeru Eruption. This type of research is descriptive research with a qualitative approach where data obtained from a Huntara in Sumbermujur-Candipuro Village in the form of interviews and this analysis uses information systems from Huntara. The results of this study state that the role of plant layout in the development process is very important because it can support the smoothness of the development process. All of this if applied in accordance with the initial plan quickly the process of work in the construction of shelters will soon be completed and will soon be occupied by its residents. Because in this development process there are not only a few shelters but several thousand affected by Semeru. While the obstacles that occur in this development process are the first from the community itself and from the Non-Governmental Organization (NGO). If the community itself is constrained if they switch to a place that has been made by the government (huntara) this can interfere with the work they do everyday.
Downloads
Download data is not yet available.
References
Apple, M. W., & Jungck, S. (1990). "You don't have to be a teacher to teach this unit:" Teaching, technology, and gender in the classroom. American Educational Research Journal, 27(2), 227-251.
Ermawati, E., Atoillah, M., & Anggraeni, Y. (2022). Pemberdayaan Masyarakat Melalui Kesenian Musik Patrol Dalam Upaya Meningkatkan Budaya Lokal Tradisional Desa Klanting. Paper presented at the Progress Conference.
Ermawati, E., Atoillah, M., Anggraeni, Y., & Istichomah, I. (2022). Identifikasi Desain Jaringan Manajemen Rantai Pasok Gula Merah di Kota Lumajang. Paper presented at the Proceedings Progress Conference.
Hadiguna, R. A., & Setiawan, H. (2008). Tata Letak Pabrik. Yogyakarta: Andi.
Hidayat, Z., & Ermawati, E. (2022). Urgensi Capacity Building Terhadap Resiko di Kawasan Gunung Semeru Lumajang. Jurnal Abdi Masyarakat Indonesia, 2(4), 1265-1270.
Hosseini-Nasab, H., Fereidouni, S., Fatemi Ghomi, S. M. T., & Fakhrzad, M. B. (2018). Classification of facility layout problems: a review study. The International Journal of Advanced Manufacturing Technology, 94(1), 957-977.
Kartika, I. M. (2014). Perancangan Tata Letak Area Produksi dengan Menggunakan Metode ARC pada CV Gading Putih Di Semarang. CALYPTRA, 3(1), 1-18.
Marini, F. N. (2022). PENDAMPINGAN IAI JAWA TIMUR DAN IAI MALANG UNTUK IMPLEMENTASI DESAIN HUNTARA DIRELOKASI APG SEMERU. JPM17: Jurnal Pengabdian Masyarakat, 7(2), 64-72.
Moleong, L. J. (2018). Metodologi Penelitian Kualitatif Remaja Rosdakarya. Inter Komunika, Stikom InterStudi.
Moleong, L. J., & Edisi, P. (2004). Metodelogi penelitian. Bandung: Penerbit Remaja Rosdakarya.
Noeraini, I. A., & Sugiyono, S. (2016). Pengaruh tingkat kepercayaan, kualitas pelayanan, dan hargaterhadap kepuasan pelanggan JNE Surabaya. Jurnal Ilmu dan Riset Manajemen (JIRM), 5(5).
Nugroho, A. (2018). Pengembangan model pembelajaran mitigasi bencana gunung meletus di sekolah dasar lereng gunung slamet. Jurnal Pengabdian Masyarakat Multidisiplin, 1(2), 131–137.
Ratna Sari, D., & Slamet, S. (2017). Pengaruh Metode Cantol Raudhoh Terhadap Kemampuan Pengenalan Membaca Pada Anak Kelompok B Di TK Mojorejo 4 Karangmalang Sragen Tahun Ajaran 2016/2017. Universitas Muhammadiyah Surakarta.
Susetyo, J., Simanjuntak, R. A., & Ramos, J. M. (2010). Perancangan Ulang Tata Letak Fasilitas Produksi dengan Pendekatan Group Technology dan Algoritma Blocplan untuk Meminimasi Ongkos Material Handling. Jurnal Teknologi, 3(1), 75-83.
Wignjosoebroto, S. (2009). Tata letak pabrik dan pemindahan bahan. Guna Widya.
Yuliastina, R., & Andiriyanto, A. (2019). Optimalisasi Hak Dan Fungsi Badan Permusyawaratan Desa (Bpd) Sebagai Upaya Meningkatkan Efektifitas Penggunaan Dana Desa (Dd) Dan Alokasi Dana Desa (Add) Di Kabupaten Sumenep. Dinamika Governance: Jurnal Ilmu Administrasi Negara, 9(1).
Yuliani, W. (2018). Metode penelitian deskriptif kualitatif dalam perspektif bimbingan dan konseling. Quanta, 2(2), 83-91.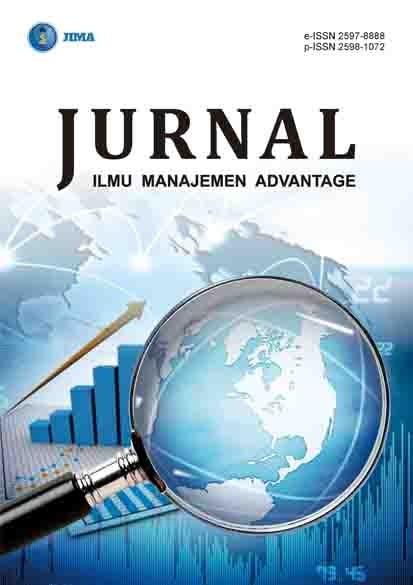 Downloads
How to Cite
Ermawati, E. (2023). The Importance of Plant Layout to Support the Smooth Process of Building Shelters After the Semeru Eruption. Jurnal Ilmu Manajemen Advantage, 7(1), 30–38. https://doi.org/10.30741/adv.v7i1.1054
License
Copyright (c) 2023 Emmy Ermawati
This work is licensed under a Creative Commons Attribution-NonCommercial 4.0 International License.