Innovation of Product Competitiveness of Warung Angkringan Based On Ethnographic Perspective
Keywords:
Ethnography, Product Innovation, Competitiveness, Consumer Behavior
Abstract
The research activities carried out aim to: Analyze the forms of competitive innovation run by angkringan stall business actors and identify patterns of consumer behavior in angkringan stalls. The research methodology uses qualitative research, ethnographic models. Research informants included: Mbok Rey angkringan stalls, Serlok Lumajang, D Jatayu and Mas Erwin Plaza Lumajang angkringan stalls as well as consumers from each of the angkringan stalls. The results of the study show that innovative forms of product competitiveness run by angkringan stalls include: the use of carts as the hallmark of angkringan stalls that reflect Javanese culture, collaboration on menus for food and drinks by combining traditional and modern concepts, the dominant form of service using the Javanese language to impress more familiar and popular, and the available facilities also support the concept of angkringan stalls, for example, angkringan stalls with traditional concepts, lesehan, garden concepts, cafes and so on. Research findings: the ethnographic concept is able to contribute that culture has an important role in people's lives and activities in running an angkringan stall, as a reflection of the concept of a warung business from Javanese culture or tradition which is inherent in the daily life of the community.
Downloads
Download data is not yet available.
References
Brahmanthara, K. A. and N. N. K. Yasa (2017). Peran Keunggulan Bersaing Memediasi Inovasi Produk Terhadap Kinerja Pemasaran. Prosiding Seminar Nasional AIMI.
Fajar, L. A. M. and R. Rismayati (2021). "Rekomendasi Paket Menu Angkringan Waru Tanjung Bias Dengan Algoritma Frequent Pattern Growth Berbasis Web." JTIM: Jurnal Teknologi Informasi Dan Multimedia 3(2): 91-97.
Fatmawati, R. A., et al. (2016). "Pengaruh Orientasi Pasar, Orientasi Kewirausahaan Terhadap Keunggulan Bersaing dan Kinerja Pemasaran Pada Warung Kucingan/Angkringan Di Kota Semarang." Jurnal Ilmu Administrasi Bisnis 5(3): 351-362.
Fattah, H. (2016). "Metode Penelitian Kualitatif Untuk Ilmu Psikologi." Jakarta: PT. Grafindo Persada.
Hafizi, M. R. and N. Oktaviana (2017). "Peluang Bisnis Angkringan di Kota Palangka Raya." Jurnal Al-Qardh 2(2): 101-108.
Handayani, S. and M. Taufik (2017). "Analisa Keputusan Konsumen Warung Angkringan (Studi Kasus Pada Warga Kos di Kota Semarang)." Jurnal Ekonomi Manajemen Dan Akuntansi 24(43): 9.
Hendryadi, H., et al. (2019). "Metode Penelitian: Pedoman Penelitian Bisnis dan Akademik." Jakarta: LPMP Imperium.
Kusumastuti, R. D. and A. S. Kusuma (2022). "ANGKRINGAN SEBAGAI RUANG PUBLIK DAN SARANA INTERAKSI SOSIAL DI KOTA BOGOR." Jurnal Pustaka Komunikasi 5(1): 91-105.
Mangifera, L., et al. (2018). "Faktor-Faktor yang Mempengaruhi Konsumen Dalam Pemilihan Kuliner di Kawasan Wisata Alam Kemuning." Jurnal Manajemen Dayasaing 20(1).
Melinda, N. F. A. (2014). "Pengaruh Harga Dan Citra Terhadap Kepuasan Konsumen Angkringan Di Kelurahan Sendangadi, Mlati, Sleman." Jurnal Manajemen 4(1): 1-9.
Nurcahyono, O. H. (2019). "MEKANISME BERTAHAN PEDAGANG ANGKRINGAN DI ERA DISRUPSI (STUDI MODAL SOSIAL PADA PEDAGANG ANGKRINGAN DI KAWASAN JL. KI HADJAR DEWANTARA, SURAKARTA)." Habitus: Jurnal Pendidikan, Sosiologi, & Antropologi 3(1): 41-50.
Nurzamni, D. H. and A. Marlina (2019). "Identifikasi Pola Perilaku pada Ruang Komunal Angkringan." Region: Jurnal Pembangunan Wilayah dan Perencanaan Partisipatif 14(1): 66-79.
Priyono, F. H., Susanto, A., & Hakim, M. M. (2021). Sistem Monitoring Angkringan Untuk Konsinyasi Barang Berbasis Android. Jurnal Dialektika Informatika (Detika), 1(2), 44-48.
Qomaria, I. (2015). Strategi Survival Pedagang Angkringan:(Studi tentang Modal Sosial Angkringan dalam Menghadapi Persaingan Antar Usaha Warung Makan di Kota Yogyakarta dan Sekitarnya), Universitas Gadjah Mada.
Sancoko, A. H. and V. Rahmawati (2019). "Membangun Strategi Pemasaran UMKM Kuliner Kajian Fenomenologi Angkringan di Surabaya." Jurnal Keuangan Dan Bisnis 17(2): 96-124.
Sardanto, R. and S. Ratnanto (2016). "Pengaruh Persepsi Konsumen terhadap Keputusan Pembelian pada Angkringan Kota Kediri." BENEFIT 3(1): 31-44.
Sari, J. I. and J. Susilo (2021). "Strategi Bertahan Cafe Melalui Pendekatan Integrated Marketing Communication di Masa Pandemi Covid-19." Jurnal Pustaka Komunikasi 4(1): 117-130.
Wardiyanta, W., et al. (2020). "Peran Diferensiasi Kuliner dan Pemasaran Dalam Pengembangan Destinasi Pariwisata Yogyakarta." Media Bina Ilmiah 15(4): 4311-4320.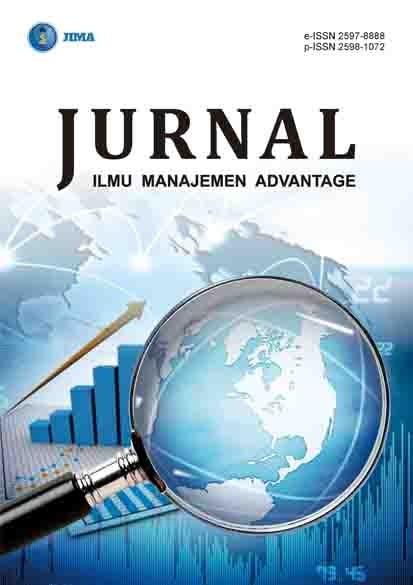 Downloads
How to Cite
Nawangsih, N. (2023). Innovation of Product Competitiveness of Warung Angkringan Based On Ethnographic Perspective. Jurnal Ilmu Manajemen Advantage, 7(1), 89–96. https://doi.org/10.30741/adv.v7i1.1055
License
Copyright (c) 2023 Nawangsih Nawangsih
This work is licensed under a Creative Commons Attribution-NonCommercial 4.0 International License.