Enhancing MSME Performance through Market Sensing Capability, Innovation Capability, and Iconic Ethnic Product Development
Keywords:
Market Sensing Capability, Innovation Capability, Iconic Ethnic Product, MSME Performance, Batik Jonegoroan MSME
Abstract
Facing competition from global batik producers with prices that tend to be cheaper, MSME Batik Jonegoroan faces serious problems in its sales performance. This study aims to analyze the development of comparative product advantages sourced from the company's market sensing and innovation capabilities. Products with comparative advantage based on regional ethnic characteristics are expected to reclaim market share from Jonegoroan Batik. A total of 194 owners of SMEs producing Jonegoroan batik were sampled in this study. Structural equation modelling analysis with smart-PLS software shows that market sensing capability, innovation capability, and iconic ethnic product positively affect MSME performance. The indirect effect test proves that iconic ethnic products perform a mediating function in the relationship innovation capability and MSME performance. Meanwhile, the iconic ethnic product is not a mediating variable for the influence of market sensing capability on MSME performance. This finding implies that MSMEs with innovation capabilities should emphasise the orientation of developing comparative advantages of products based on ethnic characteristics to increase innovation and ultimately achieve company performance. The research limitation is related to data collection, which only involves one of the many MSME sectors that may affect the generalization of the research results.
Downloads
Download data is not yet available.
References
Adeniran, T. V., & Johnston, K. A. (2012). Investigating The Dynamic Capabilities And Competitive Advantage Of South African SMEs. African Journal Of Business Management, 6(11), 40-88.
Amabile, T., Conti, R., Coon, H., Lazenby, J., & Herron, M. (1996). Assesing the work enviroment for creativity. In The Academy of Management Journal, 39(5), 1154-1184.
Anderson, J. C., & Gerbing, D. W. (1988). Structural Equation Modeling in Practice: a Review and Recommended Two-Step Approach. Psychological Bulletin, 103(3), 411-423. https://doi.org/10.1037/0033-2909.103.3.411
Anning-Dorson, T., Hinson, R. E., Amidu, M., & Nyamekye, M. B. (2018). Enhancing service firm performance through customer involvement capability and innovativeness. Management Research Review, 41(11), 1271-1289. https://doi.org/10.1108/MRR-07-2017-0207
Ardyan, E. (2016). Market Sensing Capability and SMEs Performannce. The Mediating Role of Product Innovativeness Sucess. DSLU Business & Economics Review, 25(2), 79-97.
Bayighomog Likoum, S. W., Shamout, M. D., Harazneh, I., & Abubakar, A. M. (2020). Market-Sensing Capability, Innovativeness, Brand Management Systems, Market Dynamism, Competitive Intensity, and Performance: an Integrative Review. Journal of the Knowledge Economy, 11(2), 593-613. https://doi.org/10.1007/s13132-018-0561-x
Bellis, E. D., Herrman, D. E., Bierhov, A., & Rohman, E. (2016). Uniqueness of Mass-Custmized Products. Journal of Retailing, 92(2), 162–172.
Chen, C.-C. V., & Chen, C.-J. (2017). The role of customer participation for enhancing repurchase intention Article information. Management Decision, 55(3), 547-562. https://doi.org/10.1108/MD-06-2016-0380
Choirunnisa, Ferdinand, A. T., & Indriani, F. (2018). Analisis pengaruh penginderaan pasar, pemasaran kewirausahaan, kemampuan jaringan, dan keunggulan bersaing terhap kinerja pemasaran. Jurnal Bisnis Strategi, 27(2), 79 –94.
Cillo, P., Luca, L. M. De, & Troilo, G. (2010). Market Information Approaches, Product Innovativeness, and Firm Performance. Research Policy, 39(9), 1242–1252.
Fang, S.-R., Chang, E., & Chou, C. H. (2014). Internal Market Orientatiom, Market Capabilities, and Learning Orientation. Eouropean Journal of Marketing, 48(1), 13–20.
Fitriani, L. K., & Ferdinand, A. T. (2015). Acculturative Iconic Product Attractiveness and Marketing Performance. Journal of Global Strategic Management, 2(9), 15–15. https://doi.org/10.20460/jgsm.2015915570
Gallego, J., Rubalcaba, L., & Suárez, C. (2013). Knowledge for innovation in Europe: The role of external knowledge on firms' cooperation strategies. Journal of Business Research, 66(10), 2034-2041. https://doi.org/10.1016/j.jbusres.2013.02.029
Gupta, S. D. (2015). Comparative Advantage and Competitive Advantage: An Economic Prespective and a Syhthesis. Athens Journal of Business and Economics, 1(1), 9-22.
Gurlek, M., & M.Tuna. (2015). Reinforcing Competitive Advantage Through Green Organizational Culture and Green Innovation. The Service Industries Journal, 5(5), 298-308.
Hair, J. F., Babin, B. J., & Anderson, R. E. (2010). Multivaraite Data Analysis. Prentice Hall.
Hakkak, M., & Ghodsi, M. (2015). Development of Sustainable Competitive Advantage Model Based on Balanced Scorecard. International Journal of Aian Social Science, 5(5), 298-308.
Kotler, P. (2002). Marketing Mangement (Millenium). Prentice-Hall.
Leguina, A. (2015). A primer on partial least squares structural equation modeling (PLS-SEM). International Journal of Research & Method in Education, 38(2), 220-221. https://doi.org/10.1080/1743727x.2015.1005806
Lindblom, A., Olkkonen, R., Kajolo, S., & Mitronem, L. (2008). Market-Sensing Capability and Business Performance of Retail Entrepreneurs. Contemporary Mangement Research, 4(3), 219-236.
Mones, S. D., Pop, M. D., & Rose, G. M. (2013). SME's Performance. Management & Marketing, 8(1), 129-146.
Muttaqien, F., & Sulistyan, R. B. (2022). Product Branding Training Model for MSMEs in Probolinggo Regency. Innovation Business Management and Accounting Journal, 1(1), 26-31. https://doi.org/10.56070/ibmaj.v1i1.4
Parida, V., Pesämaa, O., Wincent, J., & Westerberg, M. (2017). Network capability, innovativeness, and performance: a multidimensional extension for entrepreneurship. Entrepreneurship and Regional Development, 29(1-2), 94-115. https://doi.org/10.1080/08985626.2016.1255434
Rhee, J., Park, T., & Lee, D. H. (2010). Drivers of innovativeness and performance for innovative SMEs in South Korea: Mediation of learning orientation. Technovation, 30(1), 65-75. https://doi.org/10.1016/j.technovation.2009.04.008
Safii, A. A., & Rahayu, S. (2021). Human Capital and Social Capital as Determining Factors of The MSMEs Surviving Ability. Jurnal Ilmu Manajemen Advantage, 5(1), 1-19.
Safii, A. A., & Rahayu, S. (2020). The Role of Social Capital and Owner Cosmopolitanism on Marketing Performance of Jonegoroan Batik MSMEs. Proceeding 1st International Conference on Business & Social Sciences (ICOBUSS), 1-10.
Saunila, M. (2020). Innovation capability in SMEs: A systematic review of the literature. Journal of Innovation & Knowledge, 5(4), 260-265.
Slater, S. F., & Narver, J. C. (2010). The Positive Effect of a Market Orientation on Business Profitability. Journal of Business Research, 48(1), 69-73.
Storey, V. M., Boso, N., & Cadogan, J. W. (2015). The form of relationship between firm-level product innovativeness and new product performance in developed and emerging markets. Journal of Product Innovation Management, 32(1), 101-118.
Valencia, V. S. (2016). Small Firm Survival: An Australian Perspective. Advances in Management & Applied Economics, 6(5), 1792-7552.
Waibe, S., Sallehudin, R. M., Rosli, A. N., & Saad, S. (2018). Proactiveness, Innovativeness And Firm Performance : The Mediating Role Of Organizational Capability. Academy of Strategic Management Journal, 17(5), 1-14.
Wright, P. (1987). A refinement of Porter's strategies. Strategic Management Journal, 8(1), 93-101.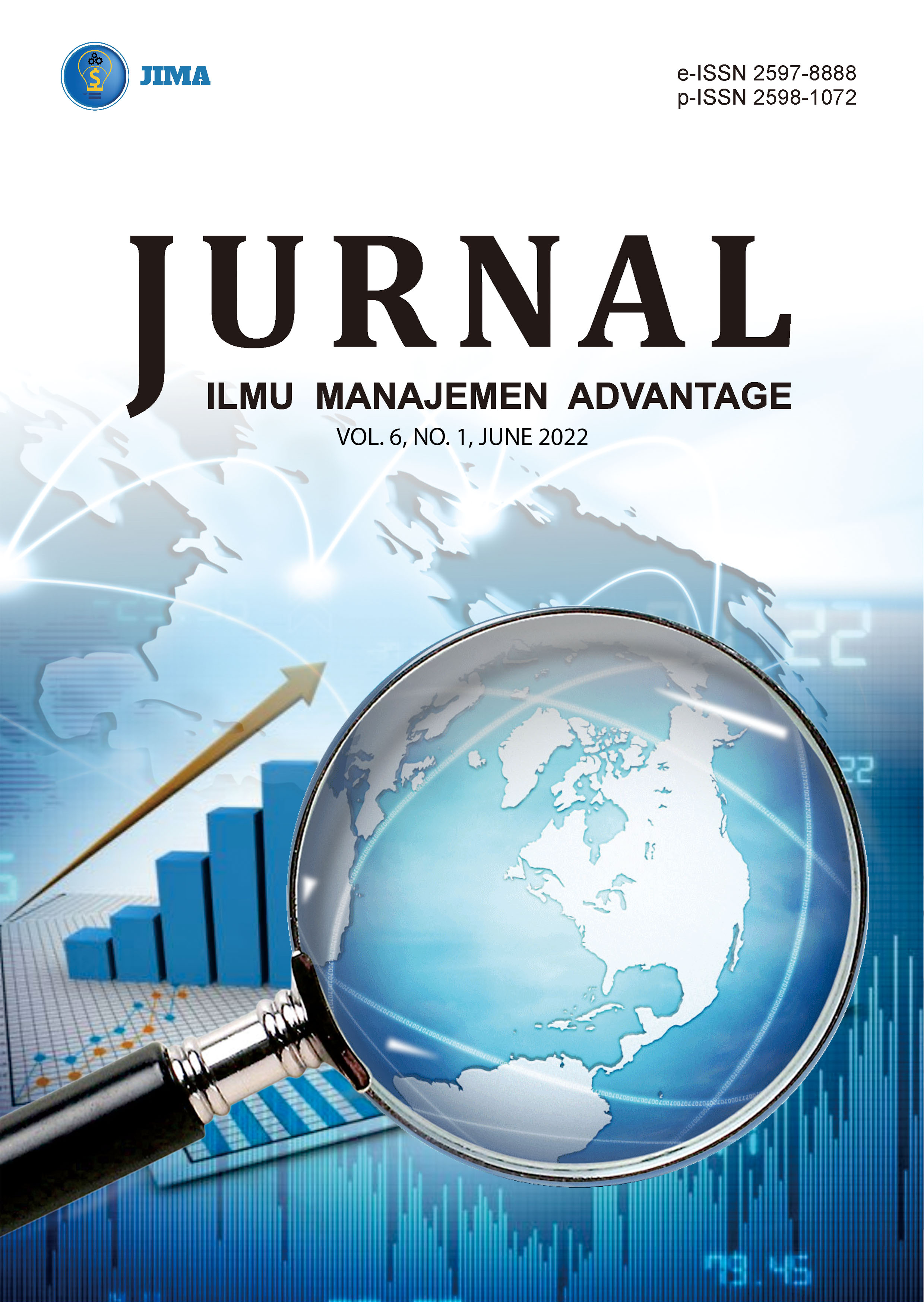 Downloads
How to Cite
Anom, L., & Safii, A. A. (2022). Enhancing MSME Performance through Market Sensing Capability, Innovation Capability, and Iconic Ethnic Product Development. Jurnal Ilmu Manajemen Advantage, 6(1), 1–10. https://doi.org/10.30741/adv.v6i1.778
License
Copyright (c) 2022 Latifah Anom, Abdul Azis Safii
This work is licensed under a Creative Commons Attribution-NonCommercial 4.0 International License.