Analysis of Factors Related to Employee Career Development
Keywords:
Motivation, Work Environment, Ability, Performance, Career Development
Abstract
In an effort to face global competition and improve performance, a telecommunications company is trying to streamline itself by implementing an early retirement policy. The policy is primarily intended for senior employees who are less able to keep up with technological developments. However, early retirement policies are more attractive to employees who are younger and have high abilities and potential. They feel that with their abilities and potential they can get new jobs and career development in other companies. This study aims to explain and examine the relationship model of work motivation, individual environment, work ability, employee performance with their career development. The research design is in the form of causal explanation from a survey of three branch offices of telecommunication companies located in Blitar, Malang, and Pasuruan. The research sample was 255 people, the respondents were taken by proportional systematic random sampling. data collection through questionnaires. Data analysis used multiple regression analysis and path analysis. The results of the study indicate that the individual environment is the initial state that stimulates the emergence of work motivation which is a driving force for work ability so as to spur employee performance which in turn can develop their careers.
Downloads
Download data is not yet available.
References
Asher, H. B. (1983). Causal Modelling (2nd ed.). London: SAGE Publications.
Budiar. (2000). Pengaruh Pelatihan Terhadap Pengembangan Karier Pegawai. Tesis. Program Pasca Sarjana Program Studi Ilmu Administrasi Universitas Brawijaya Malang.
Chori, M. (1999). Faktor Individu dan Faktor Lingkungan Sebagai Pembentuk Perilaku Kerja Karyawan Serta Pengaruhnya Terhadap Kinerja. Tesis. Program Studi Ilmu Administrasi Niaga Universitas Malang.
Davis, Keith & Newstrom, J. W. (1989). Perilaku Dalam Organisasi. (ketujuh). Jakarta: Penerbit Erlangga.
Gibson, J. L., Ivancevich, J. M., & Donnelly, Jr., J. H. (1996). Organisasi, Perilaku, Struktur dan Proses (delapan). Jakarta: Penerbit Bina Rupa Aksara.
Good, C. V. (1959). Dictionary of Education, prepared under the auspices of Phi delta kappa. New York: McGraw-Hill Book Company, Inc.
Handoko, T. H. (1992). Manajemen Personalia dan Sumber Daya Manusia. Yogyakarta: BPFE.
Kim, Y., & Cha, J. (2000). Career Orientations of R & D Professionals in Korea, R & D Management. Oxford: Blackwell Publishers.
Kreitner, R., & Kinicki, A. (1992). Organizational Behavior (2nd ed.). Boston: Irwin Homewood Ilinois.
Kopelman, R. E. (1979). A Causal-Correlational Test of the Porter and Lawler Framework. Human Relations, 32(7), 545–556. https://doi.org/10.1177/001872677903200701
Mangkunegara, A. P. (2000). Manajemen Sumber Daya Manusia Perusahaan (Cetakan Pertama). Bandung: Penerbit PT. Remaja Rosda Karya.
Landis, J. R. (1971). Sociology: Concepts and Characteristics. Wadsworth Publishing Company.
Maier, H. W. (1965). Adolescenthood. Families in Society: The Journal of Contemporary Social Services. 46(1):3-9. https://doi.org/10.1177/104438946504600101
McClelland, D. C. (1976). The Achievement Motive. New York: Irvington Publishers Inc.
Mohyi, A. (1999). Teori dan Perilaku Organisasi (kedua). Malang: UMM Press.
Paramita, R. W. D., Rizal, N., & Sulistyan, R. B. (2021). Metode Penelitian Kuantitatif Edisi 3. Lumajang: Widya Gama Press
Reilly, R. R., & Lewis, E. L. (1991). Educational psychology applica tion for classroom, learning and introduction. New York, Maxwell McMillan International.
Simamora, H. (1997), Manajemen Sumber Daya Manusia, Edisi Dua, Cetakan Pertama. Yogyakarta: STIE YKPN.
Szymanski, E. M., & Hanley-Maxwell, C. (1996). Career development of people with developmental disabilities: An ecological model. Journal of Rehabilitation; Alexandria, 62(1), 48.
Trevino, B., & Szymanski, E. M. (1996). A qualitative study of the career development of Hispanics with disabilities. Journal of Rehabilitation; Alexandria, 62(3), 5-13.
Thoha, M. (2000). Perilaku Organisasi. Edisi Pertama, Cetakan kesebelas. Jakarta: PT. Raja Grafindo Persada.
Vroom, V.H. (1964). Work and motivation. Wiley.
Widawati, I. A. P. (2001), Karier Abad 21, Usahawan. No.02 Th.XXX Februari.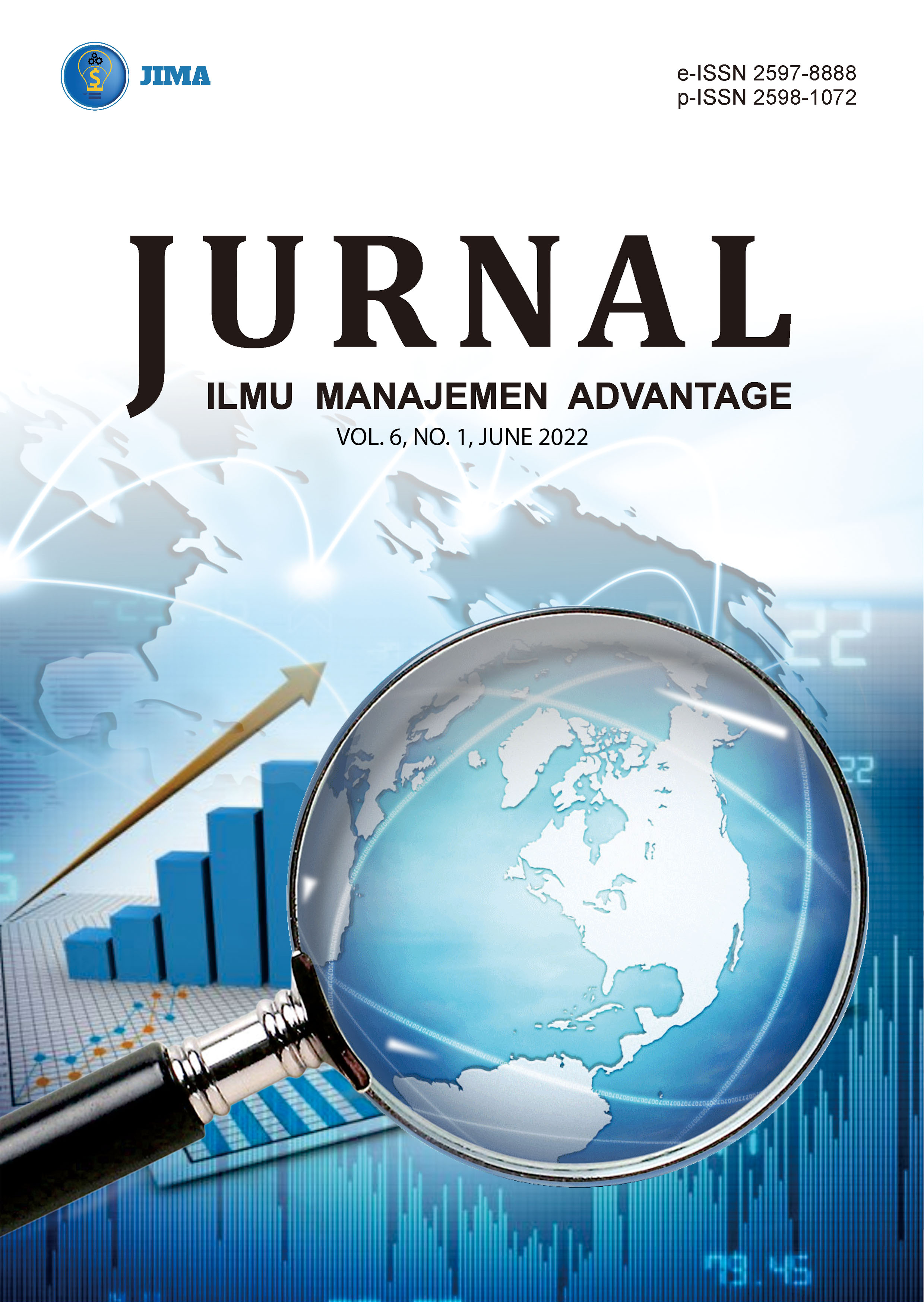 Downloads
How to Cite
Kuntardina, A. (2022). Analysis of Factors Related to Employee Career Development. Jurnal Ilmu Manajemen Advantage, 6(1), 71–78. https://doi.org/10.30741/adv.v6i1.848
License
Copyright (c) 2022 Ari Kuntardina
This work is licensed under a Creative Commons Attribution-NonCommercial 4.0 International License.