Implementation of Energy-Saving Lamp With Automatic System Using LDR SENSOR (Light Dependent Resistor) Combination at Village Guard Posts and Mosques in Probolinggo
Keywords:
LDR Sensor, Energy-saving Lamp, Automatic System, Sunlight-based Illumination
Abstract
This study presents the design of an energy-saving lamp with an automatic system using LDR (Light Dependent Resistor) sensors. The LDR sensor acts as a light regulator based on its resistance value, influenced by the received light intensity. The sensor activates when there is a slight increase in the received light. This sensor is used in combination with lamps to enable automatic operation, relying on sunlight as an essential aspect. The sensor-controlled lamps remain off during the day and turn on automatically at night due to reduced sunlight. The installation of these sensor-based lamps is implemented in guard posts within residential areas and mushollah to significantly contribute to efficient illumination in the surrounding areas. The benefits of these sensor-based lamps alleviate the need for manual activation by the guards as the lamps function automatically with the integrated sensor system.
Downloads
Download data is not yet available.
References
Al Ghifari, F., Anjalni, A., Lestari, D., & Al Faruq, U. (2022). Perancangan Dan Pengujian Sensor LDR Untuk Kendali Lampu Rumah. Jurnal Kumparan Fisika, 5(2), 85–90.
Al Hafiz, A. (2020). Implementasi Metode Fuzzy Logic Pada Intensitas Lampu di Laboratorium Berbasis Arduino. Jurnal SAINTIKOM (Jurnal Sains Manajemen Informatika Dan Komputer), 19(2), 36–45.
Apriani, Y., & Barlian, T. (2018). Inverter Berbasis Accumulator Sebagai Alternatif Penghemat Daya Listrik Rumah Tangga. Jurnal Surya Energy, 3(1), 203–219.
Chen, Y., Lai, S., & Wen, C, (2006), The Influence of Green Innovation Performance on Corporate Advantage in Taiwan, Journal of Business Ethics, No. 67, pp. 331–339
Dahroni, A., Putra, E., & Pratama, M. F. (2019). Perancangan Multimedia Interaktif Untuk Kampanye Penghematan Energi Listrik Rumah Tangga. Kilat, 8(1), 1–8.
Desmira, D. (2022). Aplikasi Sensor Ldr (Light Dependent Resistor) Untuk Efisiensi Energi Pada Lampu Penerangan Jalan Umum. PROSISKO: Jurnal Pengembangan Riset Dan Observasi Sistem Komputer, 9(1), 21–29.
Manik, S., Muslimin, A. M., & Subgan, A. A. (2020). Perancangan Alat Ukur Intensitas Cahaya Berbasis Arduino Leonardo Menggunakan Sensor Ldr (Light Dependent Resistor). Jurnal Natural, 16(1), 1–13.
Regivan, R., & Almasri, A. (2019). ANALISIS PERBANDINGAN IC REGULATOR LINIER DENGAN IC REGULATOR SWITCHING DALAM RANGKAIAN REGULATOR TEGANGAN PADA POWER SUPPLY DC. Ranah Research: Journal of Multidisciplinary Research and Development, 1(4), 1090–1099.
Rohana, R., & Zulfikar, Z. (2018). OPTIMALISASI PEMBANGKIT LISTRIK TENAGA SURYA UNTUK MENINGKATKAN KAPASITAS DAYA LISTRIK. Kumpulan Penelitian Dan Pengabdian Dosen, 1(1).
Rombekila, A., Niggin, K. K., & Markus, O. (2022). PENGEMBANGAN LAMPU PAGAR OTOMATIS PADA POLITEKNIK AMAMAPARE TIMIKA. Jurnal Sosial Dan Teknologi Terapan AMATA, 1(1), 25–28.
Setyaji, A. S., & Handoko, K. (2019). Perancangan Prototype Jemuran Pakaian Otomatis Menggunakan Sensor LDR dan Sensor Basah Berbasis Arduino. Computer and Science Industrial Engineering (COMASIE), 1(01), 82–91.
Sezen, B., & Çankaya, S. Y, (2013), Effects of Green Manufacturing and EcoInnovation on Sustainability Performance. Procedia - Social and Behavioral Sciences, No. 99, pp. 154–163.
Stiawan, E., & Taufiq, A. J. (2020). Rancang Bangun Alat Pemanen Energi Listrik Dari Tekanan Mekanik Berbasis Piezoelektrik. Jurnal Riset Rekayasa Elektro, 2(2), 79–84.
Swamardika, I. B. A., Amrita, A. A. N., Arjana, I. G. D., & Partha, C. G. I. (2018). Pelatihan Pengaman Instalasi Listrik sesuai Persyaratan Umum Instalasi Listrik 2011 Serta Amandemen 2014. Buletin Udayan Mengabdi, 17(1), 120–126.
Telleng, R. C., Suoth, V. A., & Kolibu, H. S. (2020). Rancang Bangun Alat Pengontrol Tingkat Pencahayaan Lampu Berbasis Mikrokontroler dengan Menggunakan Logika Fuzzy. Jurnal MIPA, 10(1), 36–40.
Tsauqi, A. K., Hadijaya, M., Manuel, I., Hasan, V. M., Tsalsabila, A., Chandra, F., Yuliana, T., Tarigan, P., & Irzaman, I. (2016). Saklar Otomatis Berbasis Light Dependent Resistor (Ldr) Pada Mikrokontroler Arduino Uno. Prosiding Seminar Nasional Fisika (E-Journal), 5, SNF2016-CIP.
Wie, D. S., & Agung, A. I. (2018). Perencanaan Dan Implementasi Prototipe Pembangkit Listrik Tenaga Mikro Hidro (PLTMH). Jurnal Teknik Elektro, 7(1), 31–36.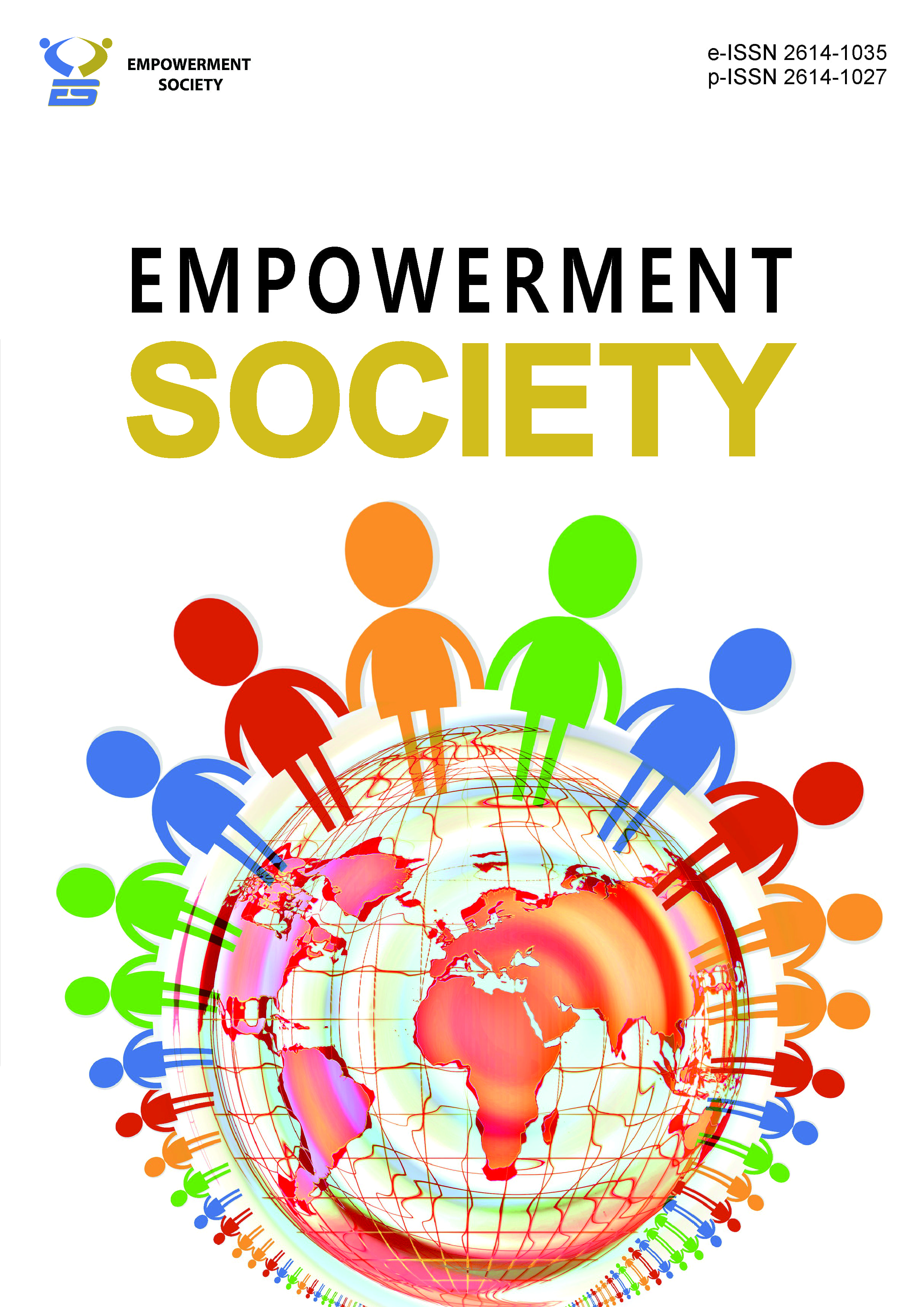 Downloads
How to Cite
Rahmansyah, A. I., Masluha, S., Haris, A., & Mauliddiansari, A. T. (2023). Implementation of Energy-Saving Lamp With Automatic System Using LDR SENSOR (Light Dependent Resistor) Combination at Village Guard Posts and Mosques in Probolinggo. Empowerment Society, 6(2), 85–92. https://doi.org/10.30741/eps.v6i2.1082
License
Copyright (c) 2023 Ahmad Iskandar Rahmansyah, Siti Masluha, Abd Haris, Ayu Tista Mauliddiansari
This work is licensed under a Creative Commons Attribution-NonCommercial 4.0 International License.