Commercialization of Handicraft Products from Water Hyacinth in Aren Handicrafts
Keywords:
Water hyacinth, Product Commercialization, Product Innovation
Abstract
The superior product of Aren Handicraft is a product made from water hyacinth which has not been commercialized in the market and is not well known by the public, therefore this product needs to carry out product commercialization with innovation and promotion. The objectives of this activity are: online promotional assistance through social media and e-commerce and product innovation assistance, through the creation of unique and attractive new products. The approach methods offered to solve partner problems consist of surveys, interviews, online promotion assistance, product innovation assistance, monitoring and evaluation. Based on the results of the PKM implementation, several informants said that the product was quite interesting because there were not many businesses that could make handicrafts made from water hyacinth. The business capital is IDR 5,000,000. The price of the product depends on the type of product, baskets of water hyacinth are priced at 55,000-65,000 while palcemates cost 24,000-30,000. The marketing area for water hyacinth products is the local area of Jember, namely the area around the sub-districts of Bangsalsari, Umbulsari, Balung, Puger and its surroundings. The scope of online marketing covers all regions of Indonesia. Promotion through online media such as Instagram, TikTok, website and marketplace Shopee, Bukalapak. The form of product innovation from Aren Handicraft varies from new product innovations such as tissue holders and several products to photo props and hampers.
Downloads
Download data is not yet available.
References
Elwisam, E., & Lestari, R. (2019). Penerapan strategi pemasaran, inovasi produk kreatif dan orientasi pasar untuk meningkatkan kinerja pemasaran UMKM. Jurnal Riset Manajemen Dan Bisnis (JRMB) Fakultas Ekonomi UNIAT, 4(2), 277-286.
Hurley, R. F., & Hult, G. T. M. (1998). Innovation, market orientation, and organizational learning: an integration and empirical examination. Journal of marketing, 62(3), 42-54.
Marlinah, L. (2020). Peluang dan tantangan UMKM dalam upaya memperkuat perekonomian nasional tahun 2020 ditengah pandemi covid 19. Jurnal Ekonomi, 22(2), 118-124.
Nugroho, A., Daru, A. F., & Adhiwibowo, W. (2014). Pengembangan Pemasaran Online Usaha Kerajinan Enceng Gondok dan Pandan di Desa Lopait Kecamatan Tuntang Kabupaten Semarang. Jurnal Transformatika, 12(1), 19-23.
Prasetyo, P. E. (2017). Standarisasi dan komersialisasi produk industri kreatif dalam mendukung pertumbuhan ekonomi daerah.
Putera, R. D. H. (2012). Ekstraksi serat selulosa dari tanaman eceng gondok (Eichornia crassipes) dengan variasi pelarut. Disertasi Strata, 1.
Retnoningrum, R. A. (2014). PEMANFAATAN ENCENG GONDOK SEBAGAI PRODUK KERAJINAN: STUDI KASUS DI KUPP KARYA MUDA †œSYARINA PRODUCTION†DESA KEBONDOWO KECAMATAN BANYUBIRU. Eduarts: Jurnal Pendidikan Seni, 3(1).
Subramaniyam, R., & Vimala, R. (2012). Solid state and submerged fermentation for the production of bioactive substances: a comparative study. Int J Sci Nat, 3(3), 480-486.
Suryono, S. (2017). IbM Pemanfaatan Enceng Gondok Dan Jerami Sebagai Pakan Ternak Dan Pupuk Alternatif Di Desa Ngargorejo. PRIMA: Journal of Community Empowering and Services, 1(1), 16-21.
Tangio, J. S. (2014). Pemanfaatan biomassa enceng gondok dari danau Limboto sebagai penghasil biogas. Penelitian Berorientasi Pengembangan Produk, 1(894).
Utomo, A. F., Primastuti, N., & Purbasari, A. (2013). Pemanfaatan limbah furniture enceng gondok (Eichornia crassipes) di Koen Gallery sebagai Bahan Dasar Pembuatan Briket Bioarang. Jurnal teknologi Kimia dan Industri, 220-225.
Yaskun, M., & Hidayat, K. (2018). Strategi Pengembangan Sentra Industri Kreatif Tas Enceng Gondok Sebagai Produk Unggulan Kabupaten Lamongan. Sosial Humaniora, 1(1), 18-20.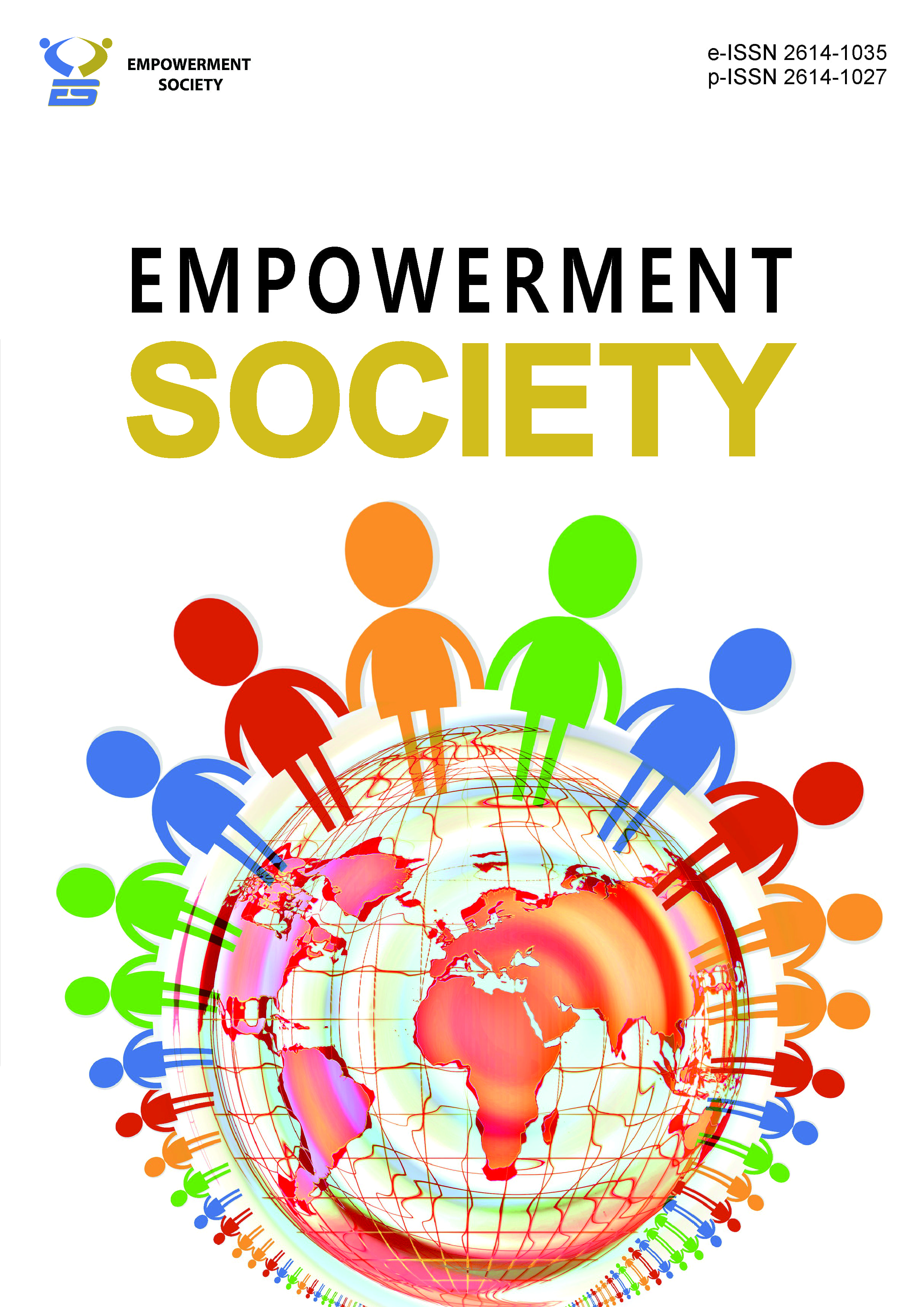 Downloads
How to Cite
Ifa, K., Meilan, R., & Yulianti, A. (2023). Commercialization of Handicraft Products from Water Hyacinth in Aren Handicrafts. Empowerment Society, 6(2), 59–65. https://doi.org/10.30741/eps.v6i2.1090
License
Copyright (c) 2023 KHOIRUL IFA, Ria Meilan, Ani Yulianti
This work is licensed under a Creative Commons Attribution-NonCommercial 4.0 International License.