Value Chain and Supply Chain Management of Products from Women Farmer Groups in South Tangerang
Keywords:
Supply Chain Management, Value Chain Analysis, Women Farmer Groups
Abstract
This study aims to analyze the operational process of the production of Farmer Women's groups effectively based on supply chain management, and determine the internal condition of the organization by using value added analysis (value chain). The analytical method used is supply chain management and value chain analysis. The purpose of this research was to find out and analyze the Supply Chain Management and value chain analysis of products produced by the Farmer Women's Group. The data analysis method used in the framework of assessing the performance of internal value added with Value Chain Analysis and knowing the process of the supply chain or supply chain. This research is included in TKT 2, namely formulating the concept of technology and its application to the UKM object of the Cempaka Farmers' Group in South Tangerang. The results obtained were three superior products, namely cumin plants and their preparations, python plants and their preparations, and butterfly pea plants and their preparations. Value chain by formulating the main factors and supporting factors for activities that must be carried out by KWT Cempaka.
Downloads
Download data is not yet available.
References
Abor, & Quartey, P. (2010). Issues in SME Development in Ghana and South Africa. International Research Journal of Finance and Economics, 3.
Ali, I. (2003). A Performance Measurement Framework for a Small and Medium Enterprise. Univerity of Alberta.
Anshori, M. Y. (2015). Pengaruh Orientasi Pasar, Intellectual Capital, Dan Orientasi Pembelajaran Terhadap Inovasi Studi Kasus Pada Industri Hotel Di JawaTimur. International Research Journal Of Businnes Studies, 3(3).
Badan Pusat Statistik Kota Tanggerang Selatan. (n.d.). Produksi Tanaman Sayuran dan Buah-buahan Semusim Menurut Jenis Tanaman (Hektar). Retrieved from bps.go.id
Chopra, S., & P, M. (2013). Supply Chain Management: Strategy, Planning and Operation 5th edn. Pearson. New York (US).
Chroeder, R., Goldstein, S., & Rungtusanatham, M. (2018). Operations Management In The Supply Chain: Decision and Cases, 7th Edtion. New York: Mcgraw-Hill Education.
Fattah, H. (2017). Manajemen Sumber Daya Manusia. Jakarta: Indeks.
Hendri, H. (2021). Supply Chain Management dan Value Chain Analysis Produksi Ampelas. Jurnal PASTI, 14(3), 310. https://doi.org/10.22441/pasti.2020.v14i3.008
Imaroh, T. S., & Widiyani, K. (2020). Improving Performance and Competitive Advantage through Innovation and Design of UMKM Products. International Journal of Innovative Science and Research Technology, 5(8), 1336–1346. https://doi.org/10.38124/ijisrt20aug445
J, H., Render, B., & Munson, C. (2017). Operations management: Sustainability and Supply Chain Management 12th Edition. England: Pearson Education.
Ketchen, D. J., & Eisner, A. B. (2009). Strategy: 2008-2009. New York: McGraw-Hill Higher Education.
Kuncoro, M. (2006). Ekonomi Pembangunan: Teori, Masalah, dan Kebijakan. Yogyakarta: UPP STIM YKPN.
Nursani, D., & Rachman, A. (2022). Pengantar Manajemen Rantai Pasok. Jakarta: Lembaga Kebijakan Pengadaan Barang/Jasa Pemerintah.
Porte, M. E. (2008). The Five Competitive Forces That Shape Strategy. Harvard Business Review, 86(1).
Porter, Michael, E. (2008). Strategi Bersaing (Competitive Strategy). Tanggerang: Karisma Publishing Group.
Prasetya, F. T. (2020). Strategi Pemilihan Kontraktor Pada Industri Hulu Migas Menuju Green Supply Chain Management. Universitas Mercu Buana. Retrieved from https://repository.mercubuana.ac.id/52123/
Pratama, D., Witjaksono, R., & Raya, A. B. (2022). Partisipasi Anggota Kelompok Wanita Tani (KWT) Dalam Kegiatan Pekarangan Pangan Lestari Mendukung Ketahanan Pangan Rumah Tangga Di Kabupaten Gunungkidul DI Yogyakarta. Jurnal Ketahanan Nasional, 28(1), 19. https://doi.org/10.22146/jkn.71270
Russell, R. S., & Taylor III, B. W. (2011). Operations Management: Creating Value Along the Supply Chain, 9th Edition. New York: John Wiley & Sons, Inc.
Simchi-Levi, D. (2000). Designing And Managing The Supply Chain. United States: Mc Graw - Hill Companies Inc.
Suraningsih, M. S. (2017). Strategi Komunikasi Keberdayaan Wanita Tani Melalui Pemanfaatan Pekarangan Menuju Ketahanan Pangan Keluarga. Institut Pertanian Bogor.
Sutawidjaya, A. H., & Marlapa, E. (2016). Supply Chain Management: Analisis dan Penerapan Menggunakan Reference (SCOR) di PT. Indoturbine. Jurnal MIX: Jurnal Ilmiah Manajemen, 6(1).
Yudiansyah, Y., & Imaroh, T. S. (2020). Analysis of Production Performance Based on Green Supply Chain Management Criteria. Dinasti International Journal of Education Management And Social Science, 1(6). Retrieved from https://doi.org/10.31933/dije mss.v1i6.466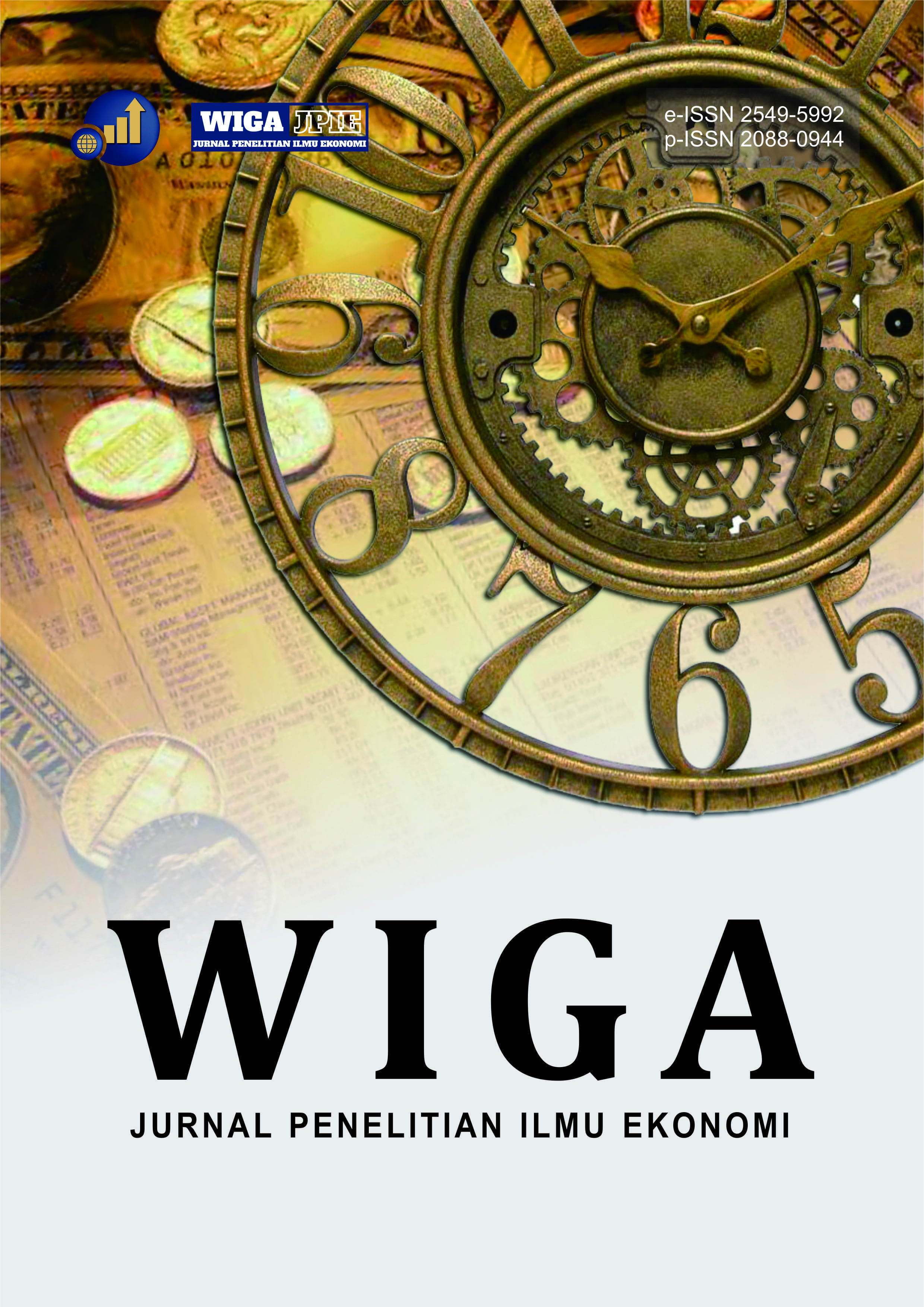 Downloads
How to Cite
Imaroh, T. S., Widiyani, K., & Muttaqien, F. (2023). Value Chain and Supply Chain Management of Products from Women Farmer Groups in South Tangerang. Wiga : Jurnal Penelitian Ilmu Ekonomi, 13(2), 190–203. https://doi.org/10.30741/wiga.v13i2.1088
License
Copyright (c) 2023 Tukhas Shilul Imaroh, Katri Widiyani, Fauzan Muttaqien
This work is licensed under a Creative Commons Attribution-NonCommercial 4.0 International License.