Entrepreneurship Learning Model Creates New Entrepreneurs "Merdeka Belajar Kampus Merdeka" in the University
Keywords:
mental, entrepreneurship, independence, mentality
Abstract
This study aims to develop a goodness of fit entrepreneurial learning model and test the found models. The benefit of this research is to develop an entrepreneurial learning model that is able to improve the business mental independence based on their talents. Methods of data collection were carried out through observation, questionnaires and literature study. The research object was UMS Industrial Engineering students. The data analysis method used is validity and reliability test, confirmatory analysis test, student test to see the difference before and after treatment to get entrepreneurial learning model. This development research uses one shot case study experiment with a quantitative approach. The students receive guidance, mentoring, counseling and empowerment in developing entrepreneurial learning models.
Downloads
Download data is not yet available.
References
Apriliani. D. M Djunaidi. Suranto. 2011. Analisis Perbedaan Mental Wirausaha Mahasiswa Dengan Statistik Non Parametrik. Jurnal Ilmiah Teknik Industri UMS. Vol 02. No 02.
Azwar, Saifudin. 2000. Metodologi Penelitian. UGM. Yogyakarta
Badan Pusat Statistik. 2019. Pendidikan Indonesia. Menteri Pendidikan Dan Kebudayaan Republik Indonesia. Jakarta
Creswell, 2012. Mixed Methods Research in Sport Marketing. International Journal of Multiple Research Approachs. Vol 09. September 2012.
Endang R, Ken Martina E.,Arief.,S.2013. Model Pembelajaran Entreprenurship Inovatif di Perguruan Tinggi. Esa Unggul. Jakarta
Karsidi, R. 2007. "Pemberdayaan masyarakat untuk usaha kecil dan mikro (pengalaman empiris di wilayah Surakarta Jawa Tengah)." Jurnal Penyuluhan 3 (2): 136–45.
Kurniawati, D.P. 2013. "Pemberdayaan masyarakat di bidang usaha ekonomi (studi pada badan pemberdayaan masyarakat kota Mojokerto." Jurnal Administrasi Publik 1 (4): 9–14.
Makarim, Nabiel. 2019 Merdeka Belajar Kampus Merdeka, Kementrian Pendidikan dan Kebudayaan Republik Indonesia. Jakarta
Marcela. Amalia. D dan LalangErawan. 2017. Penerapan Algoritma Apriori Untuk Membantu Calon Mahasiswa Dalam Memilih Program Studi Di Fakultas Ilmu Komputer Universitas Dian Nuswantoro. Journal Joins. Vol 2. No 2. Nopember 2017
Morris, M.H, Lewis, P.S. & Sexton, D.L. 1994. Reconceptualizing Entrepreneurship: An Input-Output Perspective. Sam Advanced Management Journal, Winter, 21-31
Pratiwi,Adcharina., Asri Laksmi Riani, M Harisudin, Sarah Rum Handayani Pinta, 2017. Empowerment of Entrepreneur Batik in Masaran Sragen. Journal of Scientific and Engineering Reseacrh Vol 03, No 06, 2017.
Qomarun. 2012. Kewirausahaan. UMS Press. Surakarta.
Saragih. Rintan. 2017. Membangun Usaha Kretaif Inovatif Melalui Kewirausahaan Sosial. Jurnal Kewirausahaan. No 3 Vol 2. 2017.
Sugiyono, 2016 Penelitian pengembangan R & D. Alfabeta. Bandung.
Sukirman. 2017. Jiwa Kewirausahaan dan Nilai Kewirausahaan Meningkatkan kemandirian Usaha Melalui Perilaku Kweirausahaan. Jurnal ekonomi dan bisnis. Volume 20. No 1. 2017
Suranto.,Muhtadi. Kuswadji Dwi Priyono. Totok Budi Santosa. 2016. Pengembangan Inkubator Kewirausahaan di Universitas Muhammmadiyah Surakarta. Jurnal Warta. Vol 19 No 1. Surakarta
Susilaningsih. 2015. Pendidikan Kewirausahaan di Perguruan Tinggi: Pentingkah Untuk Semua Proses. Journal Economia. Volume 11, No 1, 2015
Utari. Tri. 2018. Pengaruh Penerapan Strategi Paikem Gembrot (Pembelajaran Aktif, Inovatif, Kreatif, Efektif, Menyenangkan, Gembira Dan Berbobot) Terhadap Minat Dan Hasil Belajar Matematika Siswa Kelas III Sekolah Dasar Di Desa Dandong Kecamatan Srengat Kabupaten Blitar. Masters thesis, Universitas Terbuka.
Welsch, Liao, dan Stoica. 2003. "Organizational absorptive capacity and responsiveness: An empirical investigation of growth-oriented SMEs." Journal Entrepreneurship Theory and Practice 28 (1): 63–85
Wong, Poh-Kam, Ho, Yuen-Ping, Singh, Annette. 2007. Towards an "Entrepreneurial University" Model to Support Knowledge-Based Economic Development: The Case of the National University of Singapore. World Development, 35(6), 941-958.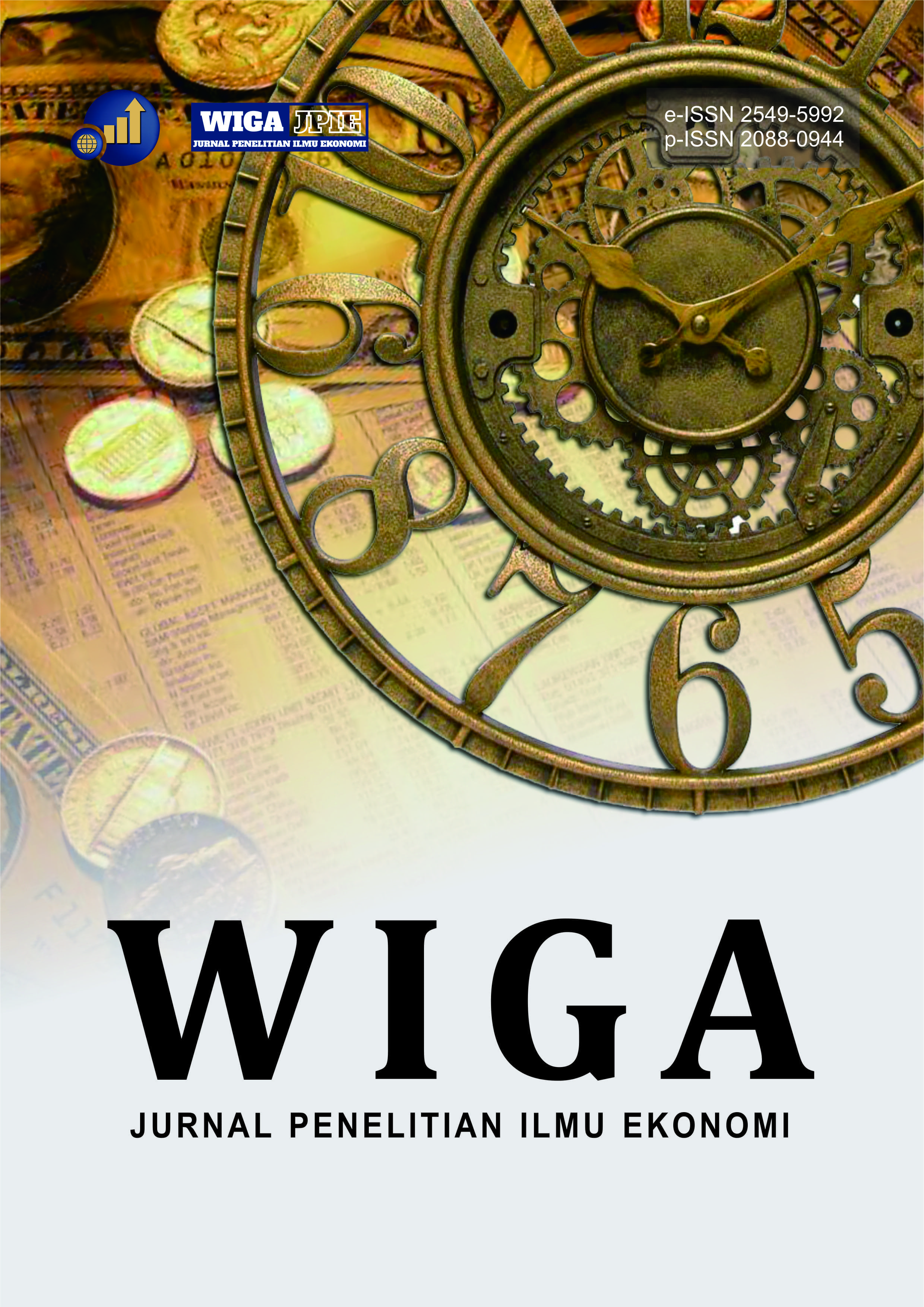 Downloads
How to Cite
Suranto, S., Nurlaela, S., & Pratiwi, A. (2023). Entrepreneurship Learning Model Creates New Entrepreneurs "Merdeka Belajar Kampus Merdeka" in the University. Wiga : Jurnal Penelitian Ilmu Ekonomi, 13(1), 84–94. https://doi.org/10.30741/wiga.v13i1.969
License
Copyright (c) 2023 Suranto, Siti Nurlaela, Adcharina Pratiwi
This work is licensed under a Creative Commons Attribution-NonCommercial 4.0 International License.